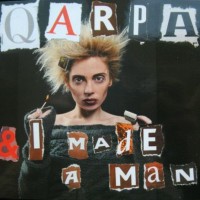 Review coming soon..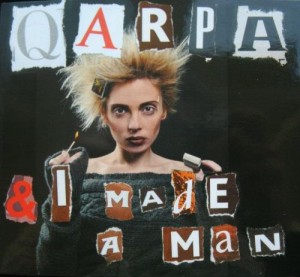 Qarpa is a band who are often praised as being among the most creative musical groups of their era and noted for their multilayered songs and often radical evolutions from album to album.
Led by the iconic Irena Karpa, Qarpa has developed a large and passionate cult following throughout Ukraine.
Qarpa has made a range of creative non-mainstream videos and released 5 albums.
With the successful October 2011 release of their new English language album & I made a man, Qarpa aims to expand its popularity to Europe and North America.
Band members are constantly in high demand by other bands and musicians from various countries for their songwriting, musicianship, sound and production talents.
BAND LEADER IRENA KARPA
Group frontwoman Irena Karpa is a prominent and award-winning author, presenter on major TV channels, and a uniquely stylish trendsetter and regular newsmaker extensively covered by national media.
Over the past 10 years, she has established herself as a unique, multipurpose person in Ukrainian culture.
She is the most frequently quoted author in the Ukrainian internet blogosphere.
Irena has written 6 bestselling novels and won multiple literary prizes.
She has had such a strong impact on Ukrainian literature that many catch phrases from her books have been enshrined in the day to day lexicon of her native language.
Irena has travelled extensively throughout the world and this is a major influence on her lyrics and novels
SOME BACKGROUND
Formed in Ivano Frankivsk Ukraine by guitarist Oleh Artym (as Fuck Submarine! Later changed to Faktychno Sami and then Qarpa)
The band was victorious in competitions in its early days in the festivals Alternative, Chervona Ruta, and The Future of Ukraine.
1999 was a year of major change as Irena Karpa joined the band in a predictably unpredictable manner:
During a club concert, the band's experimental music found themselves the subjects of thrown bottles from an aggressively negative audience.
Seeing this from the audience and worried about the health of her friends in the band, 18 year old Irena Karpa surprised everyone by jumping on the stage, tearing the microphone from Oleh and beginning to sing.
The crowd was so surprised to see some wild, aggressive and energetic girl in camouflage knee-length pants take the mic that attention to the end of gig was 100% and cultural shock acted on the crowd so that the bottle throwing stopped and the crowd got into the music.
From that point on, Irena became the focal point and leader of the band and due to her charisma and cut-above lyrics, the band moved forward with massive energy and renewed strength
The group has always aimed to do something that would leave a mark on Ukrainian rock music leading to often radical evolutions from album to album.
They began with punk and continued on to psychedelic industrialism, hard core, trip hop, hip hop, nu metal and more
Their first album was written and recorded in three nights at the studio where Oleh worked.
2003 was extraordinary in history of group.
Irena laid down vocal tracks for the next 2 albums and left to live in Southeast Asia for 7 months.
During this time Oleh and Artur completed the (hardcore, nu metal, hip hopish and explicit) Kurva Cum Back and mystical-trip-hop of Lo-fi Travmi (in which nearly 50 musicians took part).
Kurva Cum Back was released late 2004 followed by Lo-fi Travmi in 2005. A nationwide Ukraine tour followed with corresponding powerful media support. The group also released a multimedia CD of 70 mp3 tracks and 5 video clips.
In 2006, the group shot the short film "Kyiv Limited Edition", which was shown at the international film festival Youth. Oleh was the Director and Irena the Producer.
In 2007, the album Space Vacuum which previously had only been released in the USA on the Statue Records label in a limited drawing was released.
FS also rebranded assuming the name Qarpa in reflection of the importance of Irena Karpa to the band. And a new album InZhir was released to critical acclaim followed by a nationwide tour.
With the successful October 2011 release of their new English language album & I made a man, Qarpa aims to expand its popularity to Europe and North America.