A. Jude
Songs From The Singularity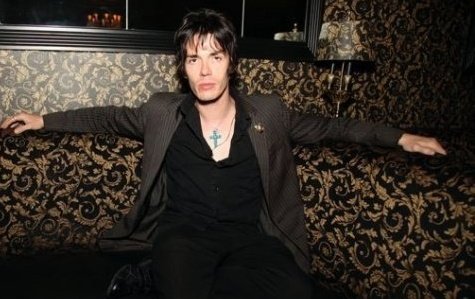 Show Details
Tuesday 7pm – 10pm UK GMT 11am – 2pm US PST 2pm-5pm US PST
Genre
Genreless
About A. Jude
Julian Shah Tayler aka A.Jude is one of those uncompromising musicians who cannot do anything but make music. It's not so much a life choice or even a calling, but it's the most dominant strand of his DNA, his life force, his entire reason for being.
But how does one make a living from music in a time when songs are considered a free downloadable right, where recording deals are not worth the paper they are written on, and the procurement of great gigs is akin to discovering the lost chord? These are just some of the daily challenges faced by Julian, and his six-piece band The Singularity, but still the British born, LA based musician ploughs on: sourcing solutions and alternatives because frankly there never has been a plan B.
Perhaps this drive is derived from the singer/songwriter's turbulent past with London based Universal Music signings, Whitey. Heralded as one of the most promising dance/guitar crossover acts of the early 21st Century, the quartet quickly imploded through battling egos, disproportionate internal recognition and a label in a tailspin.
However, the resourceful group – realising that record sales alone no longer equate to guitar shaped swimming pools – worked hard to ensure their catchy and innovative tunes were placed in movies, TV shows and advertisements. These efforts quickly paid off and when their label stopped paying the bills, placements in The Sopranos, House and Entourage (as well as a rather lucrative VISA commercial) picked up the slack. European and US tours followed but the infighting became too much and before long the band disintegrated.
A (very) brief stint as Courtney Love's guitar player followed for Julian – as did a months of sessions providing what the multi-instrumentalist described as "piano, backing vocals and shaky things" for actor Joaquin Phoenix's first musical exploits – before the now LA embedded musician decided to go it alone.
Retracing Whitey's business plan, Julian soon found new homes for sections of his vast back catalogue of over 300 songs in numerous television shows while the producers of The Kardashians mined his archive for numerous musical insertions. More recently Julian's recordings have turned up on broadcasts ranging from The Newsroom and Breaking Bad to Popstar to Operastar to NBC Sports as well as writing 3 of the main songs for the new Catherine Hardwicke/Emily Browning movie "Plush".
With the rent covered, Julian has focussed his attention to developing The Singularity, whose self-titled debut album is out now on his label, Impossible Things Records.
The 10-track collection doesn't swear its allegiance to any one genre or harness itself to any formula. Album opener, Perfect, is an unashamedly commercial yet classic pop song. Talking in Your Sleep rewires the new wave power pop of The Cars and The Only Ones. Antigravity revisits the recent Afrobeat leanings of Yeasayer and Vampire Weekend with echoes of Naked period Talking Heads. While Wetter is a modern day glam stomper, recently described by former Creation Records head and Oasis and Primal Scream A&R guru, Alan McGee, as 'massive' and easily capable of '[making] Julian a star'.
He's come along way for his formative years as a chorister at Durham Cathedral in the north of England, yet Julian still feels he has a way to go. A prominent song placement on the verge of being confirmed in one of 2013's biggest Hollywood movies, and numerous offers to license the album, are what's currently lined up, but whatever happens Julian will keep on playing, keep on writing and keep on doing the only thing he was born to do.
About the show
A. Jude has such an eclectic taste in music, it would be impossible to specify what he will play, but it mostly incorporates "grimy glam, punk funk and rocking electro"
 Links
 The Singularity – Facebook page